Pediatrics > Trunk Supports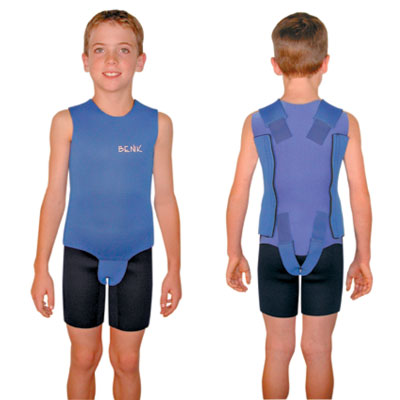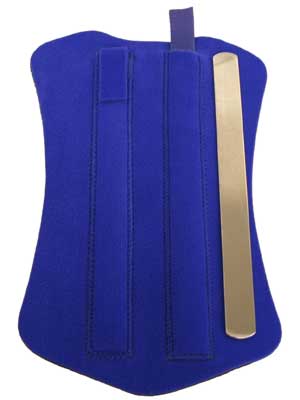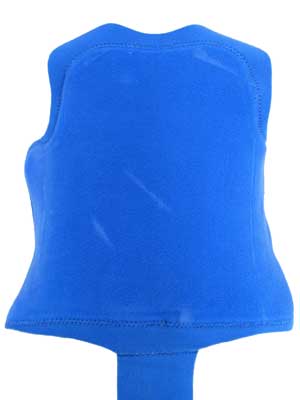 V-100
Two-piece dynamic body vest is constructed of 3mm ventilated neoprene and is terry lined for comfort. Velcro® straps on the front half of the vest adhere to the Velcro®-sensitive material of the vest back. Velcro straps at shoulders, sides and crotch provide for maximum adjustment. The orthosis provides upper trunk support and proprioceptive input. The vest will provide warmth and added buoyancy during hydrotherapy and other water activities, but is NOT to be used as a life preserver.
Vest front available in all colors. Vest back available in Velcro®-sensitive neoprene colors.
Suggested L-Code: L1499
See More Information
Stays and Panels
Benik's trunk supports are available with malleable aluminum stays or moldable thermoplastic panels to provide added support and protection.
The metal stays (pictured lower left) are typically placed in pockets positioned vertically on the back panel of the trunk support, referred to as para-spinal stays. Metal stays may also be positioned laterally (on the patient's sides) or as specified.
The thermoplastic panel (pictured lower right) is most commonly used to cover much of the posterior panel. The moldable thermoplastic conforms to the patient and provides some coverage around the sides of the wearer. The thermoplastic panels are permanently adhered to the exterior of the vest using a patented method. The 1/8 inch low-temperature material may be heated using a household iron, which allows it to be molded to the patient. The thermoplastic cools within 10 minutes to form a supportive, protective shell.
Custom modifications may be specified for both the aluminum stays and thermoplastic panels. Detailed drawings and measurements may be required.
The addition of rigid components may allow for the use of specific L-Codes when seeking insurance reimbursement, depending on the type and placement of supports and their intended functions.
View and download our Trunk Orthosis Order Form(PDF).
STOCK SIZES
V-100
Stock Size
Torso Circumference
Hip to Under-arm Length
V-101
16" to 20"
7"
V-102
20" to 25"
8"
V-103
23" to 27"
10"
V-104
23" to 27"
11½"
V-105
27" to 31"
13"
*If torso circumference measurements do not fall within stock sizes, custom measurements are required. See Custom Sizing Instructions for more information.