Benik Knee Supports
Buttressing
Buttressing within a knee support is a beneficial method for patella stabilization. There are several ways to establish the ideal buttress:
Buttress Shape
Horseshoe
Crescent
Universal
Method of Attachment
Sewn-in
Velcro®
Pocket
Position
Superior
Inferior
Lateral (Outside)
View of Right Knee
Medial (Inside)
View of Right Knee
Buttress Material

Rigid Neoprene provides the required density for use in a buttress pocket and is ideal when moisture is present.
Neoprene Cord is also appropriate for use when moisture is present.
Felt is ideal for firm buttressing, but may collapse over time, especially when moisture is present.
Neoprene does not collpase in thickness and is stackable if Velcro® is used, but is not as firm as felt.
There are advantages to each of the options. Your experience as a specialist will be your guide in determining the ideal buttress for you patient.
Darlexx™ Diamond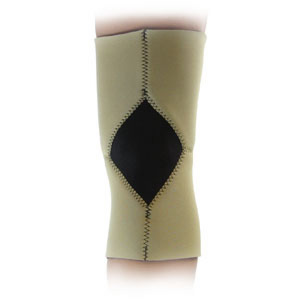 For maximum comfort, a thin, breathable panel of Darlexx™ material can be added to the popliteal area on several of our knee sleeves, giving you all the benefits of a neoprene sleeve without the bulkiness that sometimes occurs when the knee is bent.
Available on most K-100 Series, K-200 Series and K-300 Series knee supports.
Hinges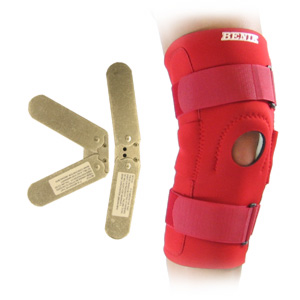 The K-300 Series knee braces feature dual-pivot malleable aluminum hinges for medial and lateral stabilization. The hinges are entirely enclosed and comfortably secured in pockets.
The malleable aluminum hinges must be fitted to the patient's leg for maximum comfort and performance and durability in the sleeve.
Spiral Stays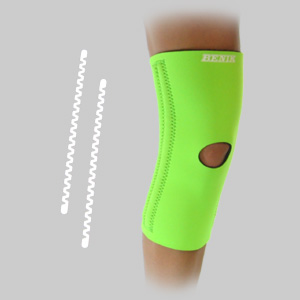 Benik's K-200 Series knee sleeves feature low profile, flexible spiral stays on the medial and lateral sides of the sleeve to prevent bunching. With very minimal additional restriction, the neoprene stays flat against the skin and greatly enhances the comfort of all-day wearers.
Anterior Velcro® Closures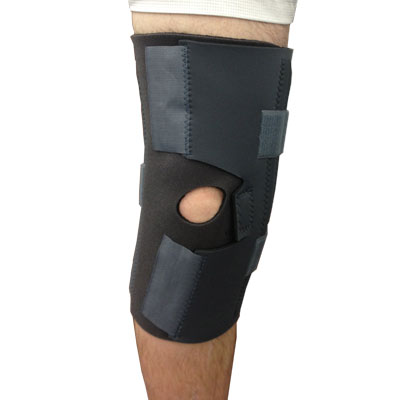 Benik's knee sleeves can be modified to utilize Anterior Velcro® closures, which makes the product a wrap-around support. Hook Velcro® tabs fasten to the Velcro®-sensitive exterior at the front of the leg. This wrap-on style allows for easier application and removal for some patients and provides adjustable degrees of compression.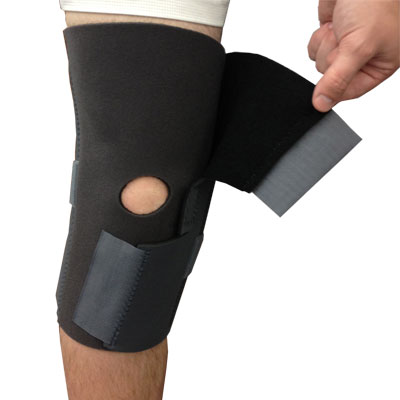 Gripper Dots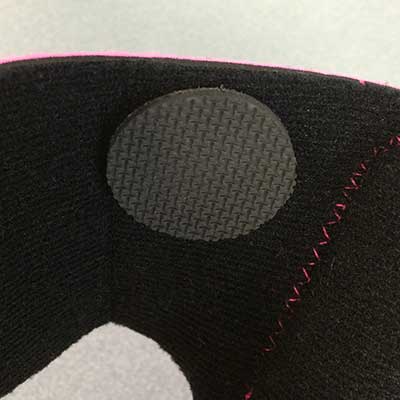 Each Gripper Dot is a 1.5" disc with non-slip material on one side and aggressive hook-Velcro fastening on the other.
The dots can be attached to the inside of most Benik products to sit against the skin and prevent slippage. They are particularly useful for conical-shaped sleeves prone to sliding down.
A common use is to place the dots in a staggered pattern around the circumference of the proximal end of a sleeve, such as a knee sleeve. The staggered pattern ensures the stretch of the neoprene material of the sleeve is retained.