JA-10G G-Tube Protective Belt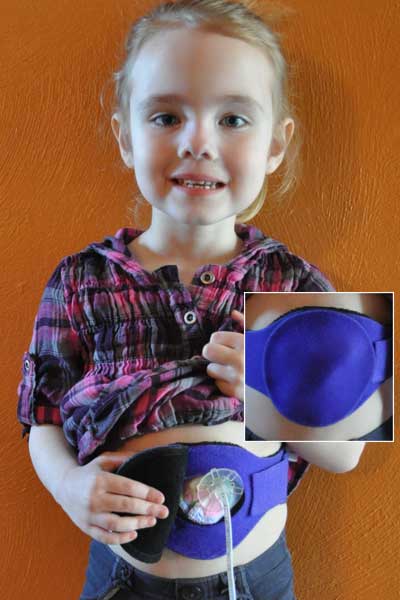 Benik's JA-10G G-Tube Protective Belt provides comfortable coverage, care and protection of a gastrostomy feeding tube (G-Tube) button, while allowing convenient access.
The JA-10G G-Tube protective Belt was created in collaboration with occupational therapist, Josh Adler, OTR/L, of Norfolk, Virginia. See Josh fitting a patient at his clinic.
The neoprene belt wraps around the waist of the wearer and is fastened by a Velcro® tab. The access hole of the belt is positioned over the G-Tube button. A neoprene flap attached by Velcro® covers the g-tube button, which can be removed to access the G-Tube without removing the entire belt. Non-slip material surrounding the access hole and along both strap ends help keep the belt in place.
For added protection, a black-colored, plastic turtle shell is included with each belt to cover the access hole and provide a rigid cover to the button site. (Image 7)
The turtle shell is also available in each belt color. Contact us for more info on the color-matched option.
The G-Tube Protective Belt is aesthetically pleasing, comfortable to wear, helps to conceal the G-Tube and protects the G-Tube from being disturbed. The JA-10G G-Tube Protetive Belt is also suitable for the protection of Cecostomy tubes, percutaneous endoscopic gastrostomy tubes (PEG-Tube) and gastrostomy-jejunostomy tubes (GJ-Tube).
Tube Holder: (Images 8 & 9) Available as an option to secure long tubes.
As with all Benik products, the G-Tube Protective Belt is NOT made with natural rubber latex.
Available in Velcro®-sensitive neoprene colors.
Custom Sizing available. Multiple access holes for more than one tube/port can also be accommodated. Contact us for more info.
View, submit or download the Order Form(PDF).
STOCK SIZES
JA-10G
Stock Size
Waist Circumference
JA-10G Preemie
Up To 15"
JA-10G PED 1
Up To 22"
JA-10G PED 2
Up To 30"
JA-10G 3
30" to 40"
JA-10G Custom
Provide
Standard Access Hole diameter is 2"