Ostomy Belt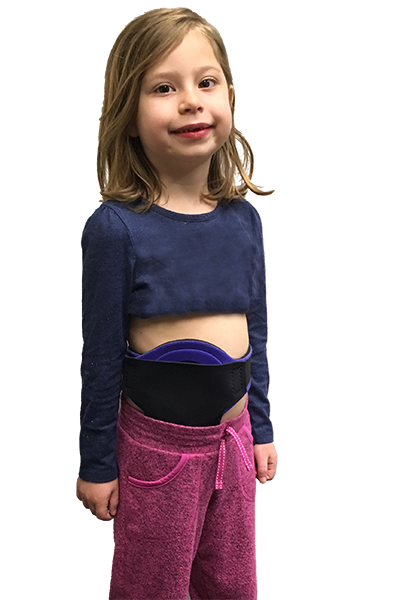 Benik's Ostomy Belt provides comfortable coverage and protection of the ostomy site and collection pouch.
The Ostomy Belt securely surrounds the stoma and wafer. The wearer's collection pouch is concealed and protected within the removable neoprene bag.
The modular design of the Benik Ostomy Belt promotes easy of use while worn and flexibility with the wearers needs and activities.
Belt and Access Hole
The fully adjustable neoprene belt wraps around the waist of the wearer and is fastened by a Velcro® tab. The access hole of the belt is positioned over the wafer. The Ostomy Belt allows for application and removal of the belt with a collection pouch in place and provides sufficient access for pouch changes while worn.
Non-slip material surrounding the access hole and along the length of the belt help keep the belt in place. The belt's protection of the ostomy site helps to extend the life of the wafer and lessens disruption and irritation of the stoma and surrounding skin.
Collection Pouch Bag
The removable neoprene bag of the Ostomy Belt offers support to the ostomy collection pouch and also conceals the entire pouch and wafer.
The neoprene bag of the Ostomy Belt can be partially turned down or fully removed to provide convenient access to the collection pouch.
The leak-resistant bag is not a replacement for existing collection pouches, but helps limit messes from incidental leakage. The bag is washable and quick drying. It attaches by Velcro® to the neoprene belt. The bag is available in three sizes (see chart below). Custom sizing available.
Stoma Guard
For added protection, a stoma guard is also included with each belt. The plastic, domed stoma guard covers the access hole and protects against pressure and bumps to the stoma. Use of the shell may allow for tummy-time in infants or sports and recreational activities for youth and adults. See bottom left photo.
Colors and Customizing
The belt is available in Velcro®-sensitive neoprene colors. The standard bag color is black.
The Ostomy Belt was created in collaboration with occupational therapist, Josh Adler, OTR/L, of Norfolk, Virginia. The design of the belt is intended to be as universally accommodating as possible, including for one- and two-piece systems and type of ostomy, such as ileostomy and colostomy.
Custom Sizing available. Multiple access holes for more than one port/opening can also be accommodated. Contact us for more info.
View, submit or download the Order Form(PDF).
As with all Benik products, the Ostomy belt is NOT made with natural rubber latex.
STOCK SIZES
Ostomy Belt
Stock Size
Waist Circumference
Ostomy PED 1
Up To 22"
Ostomy PED 2
Up To 30"
Ostomy 3
30" to 40"
Ostomy Custom
Provide
Standard Access Hole diameter is 2.75"
STOCK SIZES
Ostomy Bag
Stock Size
Dimensions (Wide x Tall)
Small
4" x 4""
Medium
5" x 6"
Large
5.5" x 8"
Custom
Provide
Standard Access Hole diameter is 2.75"