Ostomy Belt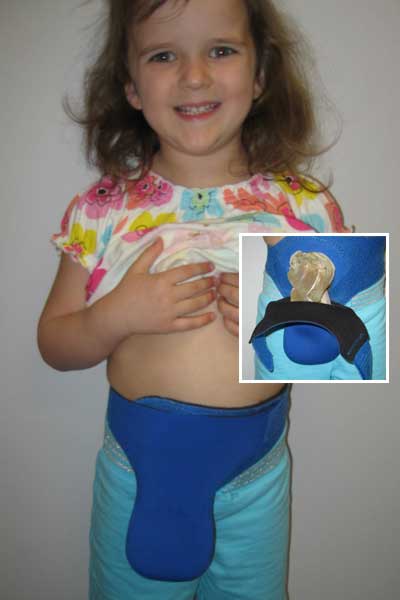 Benik's Ostomy Belt protects the stoma and wafer and supports the collection pouch.
The Ostomy Belt provides comfortable and discrete coverage of the wafer, stoma and collection pouch while allowing convenient access.
The Ostomy Belt was created in collaboration with occupational therapist, Josh Adler, OTR/L, of Norfolk, Virginia.
The neoprene belt wraps around the waist of the wearer and is fastened by a Velcro® tab. The access hole of the belt is positioned over the wafer. Non-slip material surrounding the access hole and along both strap ends help keep the belt in place.
A removable and adjustable neoprene bag offers superior support to the ostomy collection pouch and also conceals the entire pouch and wafer. The leak-resistant bag is not a replacement for existing collection pouches, but helps limit messes from incidental leakage. The bag is washable and quick drying. It attaches by Velcro® to the neoprene belt. The bag is available in three sizes (see chart below).
The belt's protection of the ostomy site helps to extend the life of the wafer, which works to alleviate skin irritation.
As with all Benik products, the Ostomy Support and Protective Belt are NOT made with natural rubber latex.
For added protection, a Reinforced Turtle Shell is available to cover the access hole. See bottom left photo.
The belt is available in Velcro®-sensitive neoprene colors. The standard bag color is black.
Custom Sizing available. Multiple access holes for more than one port/opening can also be accommodated. Contact us for more info.
View, submit or download the Order Form(PDF).
STOCK SIZES
Ostomy Belt
Stock Size
Waist Circumference
Ostomy PED 1
Up To 22"
Ostomy PED 2
Up To 30"
Ostomy 3
30" to 40"
Ostomy Custom
Provide
Standard Access Hole diameter is 2.75"
STOCK SIZES
Ostomy Bag
Stock Size
Dimensions (Wide x Tall)
Small
4" x 4""
Medium
5" x 6"
Large
5.5" x 8"
Custom
Provide
Standard Access Hole diameter is 2.75"