BD-88 Hand & Thumb Orthosis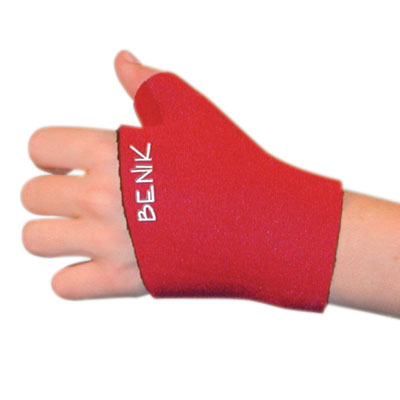 Pediatric neoprene wrist support is designed to offer support for the thumb CMC and MCP and features a full-length Velcro® closure and a palmar pocket for an optional stay.
Available either as a pull-on (top photos) or with a Velcro® closure (bottom photos), this glove-style hand splint with thumb provides warmth, compression and support to reduce pain in the wrist and thumb (Note: Size AAAA and AAA supports do not extend to provide wrist coverage). Specify left or right hand.
A number of options and modifications may be selected:
Added distal and/or proximal length
Velcro® closures - full, partial or double locking
Supinator Strap
Tri-Glide strap
Pockets with aluminum stays - dorsal and ulnar
Use BD-88 Option A for palmer aluminum stay
Volar Pan Extension
Thermoplastic Stays - Various: availability varies
View, submit or download our Hand Splint Order Form(PDF).
STOCK SIZES
BD-88
Stock Size
Circumference at Thumb IP
Length from MCPs to Wrist
Typical Age
AAAA
1 1⁄4"
1 3⁄4"
<1
AAA
1 1⁄2"
2"
1-2
AAB
1 3⁄4"
2 3⁄4"
2-3
AA
1 3⁄4"
3"
3-5
A
2"
3 1⁄2"
5-7
B
2 1⁄4"
3 3⁄4"
7-9
C
2 1⁄4"
4"
8-9
D
2 3⁄8"
4 1⁄4"
9+
Measuring Guide