E-600 Static Velcro Sensitive Elbow Wrap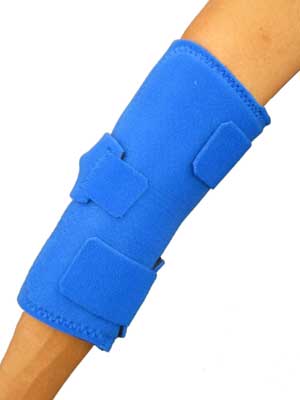 Benik's static elbow immobilization orthosis can be heated and molded to firmly and comfortably control elbow flexion as desired - from full extension to nearly 90 degrees flexion (request a custom flexion cut for positioning of 60 degrees or greater). The anterior thermoplastic support can be reheated and repositioned as treatment progresses.
The elbow wrap is easily applied and remains securely in place.
A posterior strap (Image 4) provides added resistance.
Possible indications include cubital tunnel syndrome (ulnar neuropathies), muscle strains and ulnar lacerations.
Specify right or left arm.
Available in Velcro®-sensitive neoprene colors.
View and download our E-600 Static Elbow Order Form(PDF).
Also offered in pediatric sizes.
Molding To Cast: Molding directly to a patient can be a challenge, particularly with more extreme degrees of flexion. Molding to a cast can be helpful, and Benik may be able to pre-mold the orthosis for you when casts are provided to us. (Example shown in images)
An effective method is to produce a smooth, thin fiberglass cast on the patient in the desired position. When cut, removed and stapled, the resulting cast can be used for molding prior to seeing the patient or sent to Benik for molding during fabrication.
If interested, please contact us prior to sending casts for product fabrication and molding.
STOCK SIZES
E-600
Stock Size
Length
Circumference at Elbow
Size 8
8"
7" - 9"
Size 9
9"
7 1⁄2" - 10 1⁄2"
Size 10
10"
8" - 11"
Size 11
11"
8 1⁄2" - 11"
Size 12
12"
8 1⁄2" - 11 1⁄2"
Size 13
13"
8 1⁄2" - 11 1⁄2"
Measuring Guide