E-600 Static Velcro Sensitive Elbow Wrap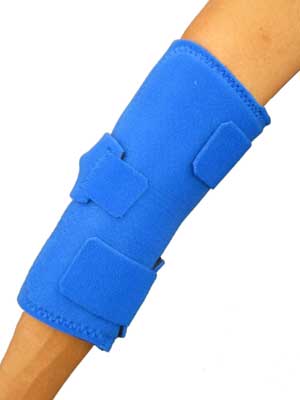 Benik's static elbow immobilization orthosis can be heated and molded to firmly and comfortably control elbow flexion as desired - from full extension to nearly 90 degrees flexion (request a custom flexion cut for positioning of 70 degrees or greater). The anterior thermoplastic support can be reheated and repositioned as treatment progresses.
The elbow wrap is easily applied and remains securely in place.
A posterior strap (pictured bottom) provides added resistance.
Specify right or left arm.
Available in Velcro® sensitive colors only.
Also offered in adult sizes.
STOCK SIZES
E-600
Stock Size
Length
Elbow Circumference
Ped 3
3"
4 1⁄2" - 5 1⁄2"
Ped 4
4"
4 1⁄2" - 5 1⁄2"
Ped 5
5"
5" - 6"
Ped 6
6"
5 1⁄2" - 7"
Ped 7
7"
6 1⁄2" - 8"
Ped 8
8"
7" - 9"
Ped 9
9"
7 1⁄2" - 10 1⁄2"
Ped 10
10"
8" - 11"
Ped 11
11"
8 1⁄2" - 11"
Ped 12
12"
8" - 11"
Measuring Guide