E-505V Hinged Elbow Wrap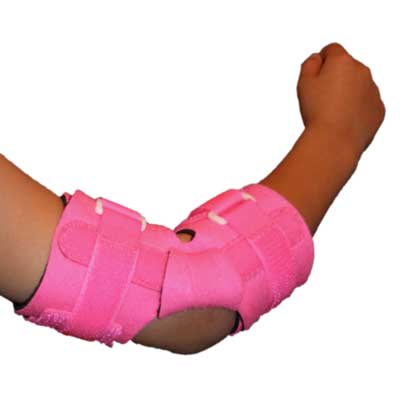 E-505V
The dual pivot aluminum stays in this versatile neoprene wrap provide light medial/lateral support and stability to the elbow. Open cubital fold and posterior offer comfort and reduce bulk. Adjustable dual closure design allows for maximum custom fit with a stock size. Options include removable elastic strapping that can be added to offer additional resistance to hyperextension if needed.
The E-505V can be modified to provide greater resistance to flexion. The posterior of the support can be fully enclosed to better secure the elbow. Custom measurements are required.
Benik's hinged supports feature malleable aluminum hinges for medial and lateral stability. Extension/flexion stops can be adjusted in 30-degree increments within a 165-degree range - short of full extension. The elbow can also be placed in a static position when utilizing all four stops.
Note: Neoprene is elastic and can be overpowered. For static-only positioning, the E-600 may be a better option.
Each support includes 2 hinges, 8 removable/repositionable stops and a 9/64" allen wrench. See photos bottom left.
Specify right or left arm or universal.
Available in Velcro sensitive colors only.
STOCK SIZES
E-505V
Stock Size
Lateral Length
Elbow Circumference
Ped 5
5"
4 1⁄2" - 9"
Ped 6
6"
5" - 10"
Ped 7
7"
5" - 10"
Ped 8
8"
6" - 12"
Ped 9
9"
6" - 13"
Measuring Guide