Velcro Sensitive Wrap
Universal wraps are constructed of 3mm Velcro®-sensitive neoprene and are terry lined for comfort. Velcro®-sensitive material allows for maximum adjustable fit. Terrific for problem solving and testing rehabilitation techniques. Thermoplastic Stays can be added for rigidity or protection. Wraps can be made in any size and can be easily trimmed to a dimensional shape.
Photo at lower left shows a wrap applied to at the calf.
Available in Velcro®-sensitive neoprene colors.
Custom Sizing only. Specify desired size and shape when ordering.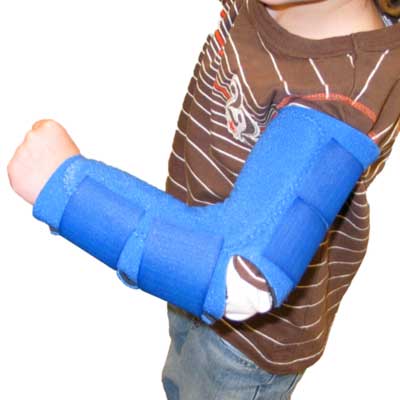 Thermoplastic for Static Positioning
Pictured here is a Pediatric Static Elbow Wrap, which is an example of how a thermoplastic panel applied to a neoprene wrap can be used to prevent elbow flexion.
The same idea can be applied to the knee. Custom measurements and desired angle from full extension are required when ordering.