Benik Wrist Supports
Benik offers an extensive line of wrist supports to meet the varying needs of your patients. Our stock wrist supports have been developed through years of working closely with medical professionals to create unique products. The result is our current product line, which combines many of our most commonly requested options.
Benik continues to foster partnerships with the medical professionals to produce custom products to meet the individual needs of each customer. If you do not see what you are looking for, custom sizing and options are available for all of Benik's splints. Shown below are examples of the most commonly ordered options.
Custom Sizing
Please refer to the Custom Fitting Directions for the required custom sizing measurements.
Custom Options
A variety of options may be specified to customize many of our wrist supports. Featured here are the most commonly requested options.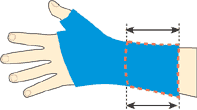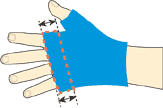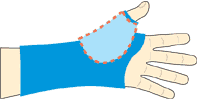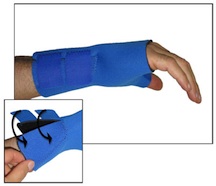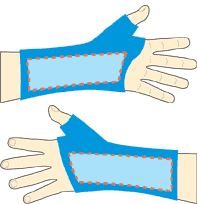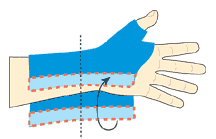 Thermoplastic Options
Combine the support of a custom-molded thermoplastic splint with the aesthetics and comfort of terry-lined neoprene through our patented adhering process. Choose from one of our stock W-200 and W-300 series thermoplastic splints or add thermoplastic where additional support is desired. When heated in a microwave or with an iron or hydrocollator, Benik's thermoplastic splints and components can be shaped for a custom fit. Thermoplastic supports may be reheated and reformed as needed.
Custom Thermoplastic Options
If a patient requires something other than what our stock thermoplastic splints have to offer, custom thermoplastic options may be specified. Thermoplastic can be added to most of Benik's products. Please refer to the pictures below to see the most commonly requested thermoplastic options and refer to the chart below for availability.
To order something not pictured, please provide us with a tracing of the hand, and outline the desired coverage area on both the dorsal and volar sides.
Examples shown are representative of the available options. The final product may appear different, depending on sizing, product selection and other options.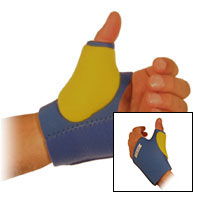 Gives extra support for thumb abduction.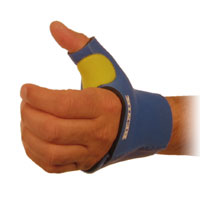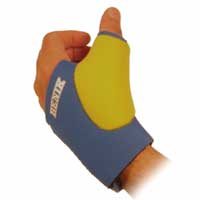 Controls MCP
hyperextension.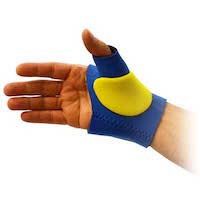 Supports the CMC
and leaves the
MCP and IP free.
NOTE: Does not include web space,
does not cover thumb IP.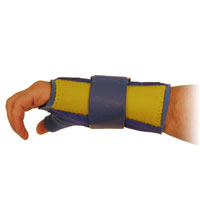 Controls Ulnar deviation.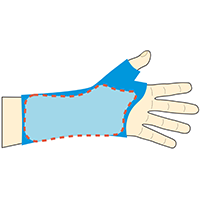 Provides rigid support to the palmar side of the hand, wrist and forearm.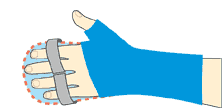 A volar pan extension can be added to select supports to create a resting pan for the digits. A thermoplastic panel and Velcro® strap are added to the support to provide passive stretch and extension to the digits. The pan can be heated and reformed as treatment progresses. (Available on BD-88 and W-300 series supports — except W-304 and W-305). View the volar pan extension page to learn more. Also available in a removable version.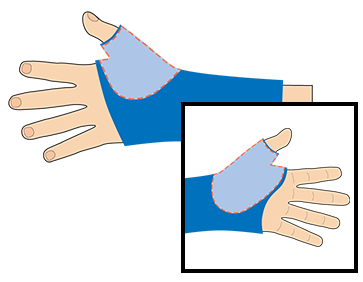 A W-211 style thermoplastic thumb stay completely surrounds the CMC and MCP joints to aid in positioning and immobilizing the thumb. This style of stay should be considered if attempting to combine the standard, dorsal and web space thermoplastic components.
Thermoplastic Availability
Available: Not Available: Included: Requires addition of thermoplastic palmar panel.
Item Number
Standard Thumb Stay
Thumb Web Space
Dorsal Thumb Stay
Thenar Stay
Ulnar Stay
Volar Pan Extension
BD-88

Only w/Added Length

BD-88 Option A
RG-87

Only w/Added Length

RG-87 Option A
W-108
W-201
W-204
W-220ABD
W-220OPP
W-300
W-301
W-302
W-303
W-304
W-305
W-311
W-313
W-321

Choose W-311 + Stay

Choose W-311 + Dorsal & Std. Stays

W-323

Choose W-313 + Stay

Choose W-313 + Dorsal & Std. Stays